SCFF Rugged (1TRx)
Description:
The rugged SCFF ("Small Cubical Form Factor) is a 1-channel duplex multi-mode (850nm) on-board transceiver with a 12pin electrical interface (SMT) complying specification SFF-8431 for high speed interfaces.
It operates at data-rates up to 25Gbps in harsh environment:
Operating case temperature: (-40°C;+85°C)
Shock: (500g;1ms) per MIL STD-883 Method 2002.4
Vibration: 20g@[20-2000Hz] per MIL STD-883 Method 2007.3
The SCFF series has first been introducted in 2009 for 10Gbps speeds. A new rugged version of the SCFF has been developed by AAOP in 2019 to answer the needs for increased data-rates (25Gbps) and harsh-environment applications. The rugged SCFF is a "chip-on-board" transceiver leveraging state of the art 25Gbps chipsets from the data-com industry (VCSEL drivers, TIA, VCSEL, PIN Diodes).
The rugged SCFF is mounted on a PCB using two screws and is solder-mount on the rear connector. Its height has been optimized to be lower than 10mm above the PCB to fit the state-of-the art electronic casings.
Features & Benefits:
Small Cubic Form Factor (SCFF) -> half the area of an SFP+
Data rate transparent from 1.25Gbps to 28.05Gbps*
Duplex LC optical interface (ARINC801 adapter option)
SFF-8472 compliant two-wire control and diagnostic interface (i²c)

Tx Power monitoring
Temperature monitoring
Input voltage (module)
Rx Power monitoring (RSSI)
Bias current monitoring
Programmable input equalization
Programmable output amplitude and de-emphasis

Clock and Data Recovery functionality*
Low power consumption (<0.45W at 10Gbps [0°;+85°C] Tx+Rx)
High link-budget (14dB nominal at 10 Gbps)
* for 25Gbps version only
Additional information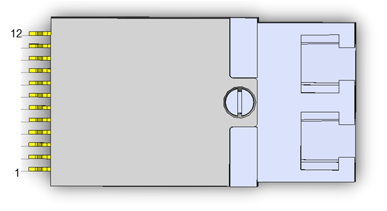 | | | | |
| --- | --- | --- | --- |
| PIN | Symbol | I/O | Description |
| 1 | GND | Power | Common Ground |
| 2-3 | TX-, TX+ | Input | Differential Transmitter Data Input, AC coupled |
| 4 | TX VCC | Power | Power Supply Transmit Side |
| 5 | TX_DIS | Input | Transmitter Disable |
| 6 | SCL | Input | I2C, Serial Clock |
| 7 | SDA | Input/Output | I2C, Serial Data |
| 8 | SD | Output | Receiver Signal Detect |
| 9 | RX_VCC | Input | Power Supply Receiver Side |
| 10-11 | Rx+, RX- | Output | Differential Receiver Data Output, AC coupled |
| 12 | GND | Power | Common Ground |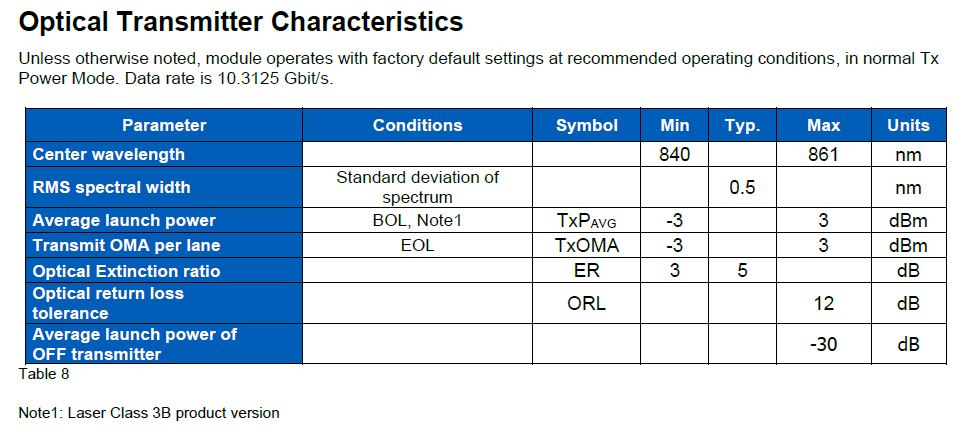 TRX-
xx-
S000-
xx-
S1-
x-
x-
0
Data-rate
10-
10 Gbps
25-
25 Gbps
Optical
port
LC-
LC
AR-
ARINC801
Case Operating
Temperature
C-
[0°C, +70°C] commercial temp.
E-
[-5°C, +85°C]

extended temp.

A-
[-40°C, +85°C] mil. aero
Coating
0-
no coating
1-
conformal coating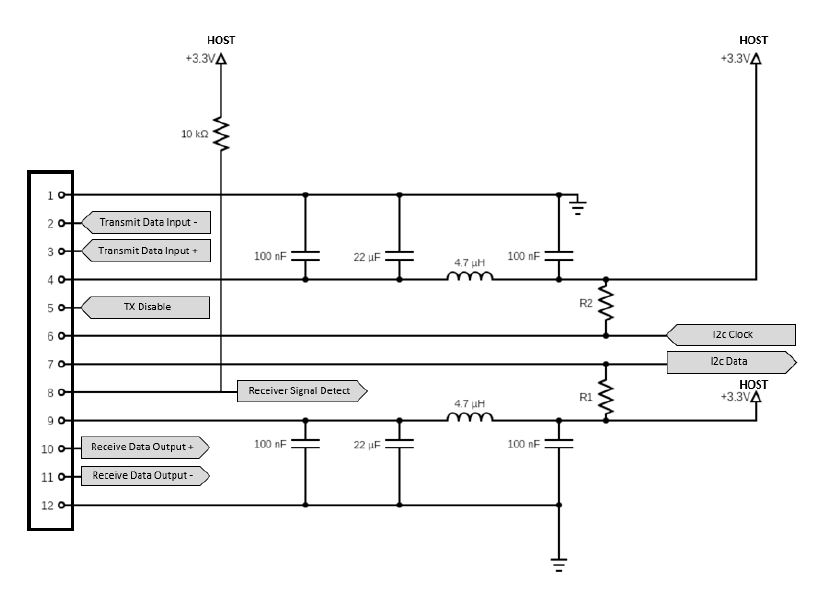 LEAP OBT Rugged (12TRx) "no strings attached"
The LEAP® On-Board Transceiver is a rugged 12-channel duplex optical transceiver capable of running data-rates of up to 16Gbps per channel (192Gbps cumulative) on multi-mode fiber.
SCFF evaluation kit
The SCFF evaluation kit allows assessing the performance of the SCFF modules for their operation in specific end-user applications.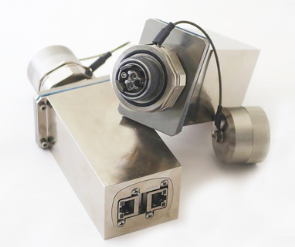 ARCH Series TFOCA-II® Ruggedized Media Converter
ARCH Series TFOCA-II® Ruggedized Media Converter converts Ethernet copper to Fiber at 10Gbps